Valencia for the Active Skinflint Tourist
Valencia hosts one of the best urban green spaces in Europe and, as it is a flat city, it allows the active tourist to explore many sites on foot or bicycle, and for free.
A tourist visiting Valencia short on cash and eager for some exercise is in luck as this Valencia has myriad options that tick both boxes.
Jardines del Turia (Turia Gardens)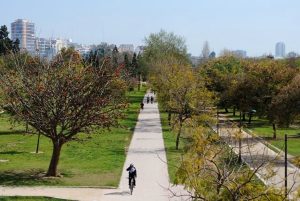 Probably one of the best examples of how to create an urban greenway, the old riverbed of the River Turia has been converted into seemingly endless paths that meander past gardens, sports fields, and in the summer, an outdoor nighttime cinema. A better place for a walk, run, or bike ride would be hard to come by and also serves as a fast traffic-free way to burn some calories in transit from the City of Arts and Sciences to the old quarter.
City of Arts and Sciences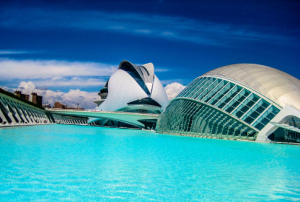 As the Turia Gardens nears the port, the greenery morphs into a landscape defined by ultra-modern, megalithic buildings, which house an IMAX theatre, a performing arts centre, a large aquarium, and quite unexpectedly, a science museum. Should the somewhat high admission prices be a bit too high for a small budget, simply take a wander among these architectural gems, which could double as the set of a blockbuster SciFi movie.
Mercado Central (Central Market)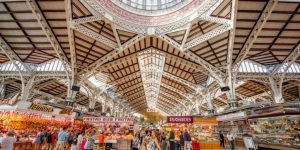 Valencia's bustling, enormous and beautiful market is a treat (and, at times, an assault) for the senses. The market is believed to be one of the oldest markets in Europe, still running on a daily basis, and home to more than 300 stallholders. A stroll through the stalls of fishmongers, butchers, and greengrocers is a great way to see and smell the fresh produce used in everyday Valencian cuisine. Be sure to visit the market fairly early as things wind down considerably as the clock nears two o'clock in the afternoon, after which time the market is closed until the next morning.
Estación del Norte (Main Train Station)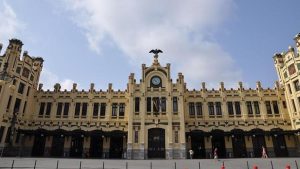 Valencia has one of the most striking train stations in all of Spain, and the façade of this masterpiece is adorned with ceramic oranges, a fitting tribute to fruit with which people the globe over associate the city. Aside from a couple of tiled rooms, there is not much interest inside the station unless you like people watching and may enjoy seeing exasperated tourists negotiating the purgatory of a Spanish train ticket queue.
Torres de Serranos (Medieval Gateway)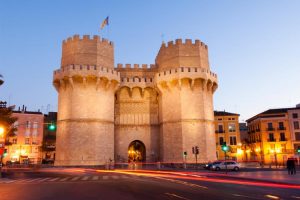 Guarding an entrance into Valencia's old quarter, the mighty gate that is Torres de Serranos is sadly only one of two surviving remnants of the medieval walls that encircled the city. Originally, twelve gates were built in the 14th century that formed the Christian Wall, or Muralla Christiana.
On Sundays, it is free to clamber up to the ramparts, from which one is treated to a wonderful bird's eye view of the port and city. There are cafés flanking the western base of the gates for those wanting a reprieve.
 The Beach, and of Course, Paella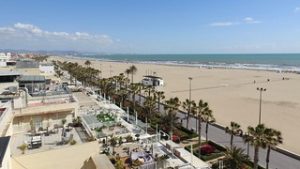 Easily accessible to the town by metro, bus, or for the hardy, foot power, Valencia's municipal Beach of Las Arenas makes for an excellent day of surf and sun. And although some recommend what can be a logistically challenging trek to the marshes of La Albufera for "authentic" paella, be assured that there are numerous joints in and around Calle Neptuno that would take umbrage at the suggestion that their paella is any less authentic than that proffered by their country cousins out in the rice paddies. After all, it is not worth visiting Valencia without sampling its paella, a well-earned treat after trotting around one of Spain's most popular tourist destinations.